This is our second year of home schooling and I have been wanting a large white board to use with the kids. After shopping around I realized there is just no way I could spend that much money on a white board! Then I remembered when I was teaching I would use the large white laminate shower walls from Home Depot and have them cut into 12" X 12" squares for the students. (Home Depot will cut them for free!)
So why not have them cut them into large pieces?? Off I went to pick one up. I had them cut it into thirds. Perfect! Here is one of the pieces.
Since we are now homeschooling in our dining room I did not want to just attach it to the wall like this so my husband picked up some crown molding and made a frame attached right to the board. I LOVE it!!!
Here is the after shot. I had such a hard time getting my camera to take a photo with all that white so I had to include other "wall space" in the picture! :)
I am linking this to:
Strut Yourself Thursday

Poppies At Play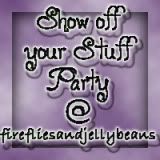 My Romantic Home -
Show and Tell Friday